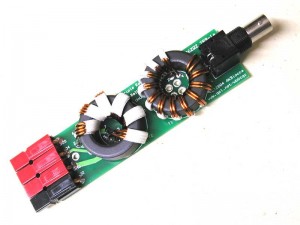 What is a Triple Ratio Balun?
The Triple Ratio Balun provides impedance transformation and feedline choking features for 12, 25 and 50 ohm antennas to 50 ohm coax. This covers the range from 9 to 75 ohms with a less than 1.5:1 SWR which is useful for most compact portable and mobile antennas up to quarter wave verticals and halfwave dipoles.
For detailed technical information regarding this Balun see Triple Ratio Balun.
Ordering Triple Ratio Baluns:
The Triple Ratio Balun Kit includes the high quality double sided FR4, plated through, solder reflowed, silkscreened PC Board, ferrite cores, wire, fiberglass tape and the BNC and Antenna connectors – 19 pieces in all. It also includes one set of Anderson Powerpole connectors for the antenna side of the selectable impedance antenna connection. (Additional Anderson Powerpole connectors are available from many vendors and Amateur Radio stores). The contents of the kit are listed in the instructions on the web via the link above. Balun Kits are shipped by First Class mail to US destinations.
TRB Kits are currently OUT OF STOCK. New production will be ready in a month or so only $29.95 plus shipping/handling
US Only Buy Now Link
A factory built version of this balun with a selector switch is available from www.Buddipole.com as the TRSB (Triple Ratio Switch Balun).
International Delivery Triple Ratio Balun Kits
The Triple Ratio Balun Kit can be shipped to many non-US addresses via Airmail Letter Post. However shipping costs have increased. Extra paperwork is required so non-US shipments take longer. NOTE THAT THE RECIPIENT IS RESPONSIBLE FOR DUTY, ETC. WE ARE NOT RESPONSIBLE FOR LOST FOREIGN SHIPMENTS. Some international destinations may not be available.
Non-US Buy Now Link