The Antenna Launcher Tennis Ball is just the right weight for Antenna Launching – about 4 ounces. It has a loop of line to attach to – a NEW IMPROVED nylon coated stranded stainless steel wire. These are made from new tennis balls.
The Antenna Launcher 3 Tennis Ball Set contains three of the Antenna Launcher pre-prepared Tennis Balls.
You can prepare your own Launch Balls with the Launch Ball Loop Kit and Safety Ball Holder tool. See the Launcher Manual for instructions.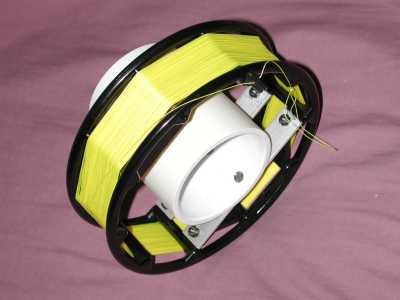 The Antenna Launcher Zip Reel is designed and assembled by Eric WD6CMU. It includes the commercially manufactured Reel combined with his custom machined mounting collar and aluminum brackets PLUS 150 yards of 50 pound hi-tech Spectra hi-visibility line already spooled on the reel. It is assembled and ready to go! It friction fits on the end of the PVC barrel and can easily be removed for rewinding and transporting the launcher. This is the ultimate in launcher reels. It has a clever pair of "fingers" that hold the line but release it perfectly on every shot. The line feeds from the side of the reel and provides minimum resistance to the ball. The circumference is about 21″ so we measure launch height by counting the turns to replace the line on the reel after launching straight up (not over a tree). The Zip reel and line is included in the above Super-Zip kits. We try to stock Reels but due to demand and parts delays may take a few days to three weeks to ship. Note the ZIP reel is no longer available, we have the Mini Coaxial Reel instead. There is more info on Eric's website: Antenna Launcher Zip Reel
The Pressure Safety Relief Valve that is included in the Super Kits is available here as an add-on. This prevents accidentally exceeding the safe pressure for the launcher. It is factory set to bleed off pressure at 100 psi. This is useful if your pressure source scan exceed 100 psi – especially for electric compressors or CO2 systems. It threads into a 1/8-27 NPT threaded hole.
The CO2 Pressure Regulator includes a high quality pressure regulator with a tire fill adapter pre-installed. The removable 12 ounce refillable CO2 bottle is available separately. This is the safest and most convenient way to fill the Antenna Launchers. The CO2 system can be carried right to the launch point, and the launcher filled immediately prior to the shot. You can see a photo of it in the CSV19 kit. It is the black bottle just above the launcher in the photo. The high quality CO2 regulator is adjustable and is preset to 100 psi. It will fill the CSV19 launcher in a few seconds and has capacity for about 20 to 30 launches on the CSV19, even more for the smaller CSV17. It is shipped without CO2 and can be refilled at most outlets carrying paintball supplies for a few dollars. CO2 systems are made on order and may require up to 2-3 weeks to ship.
The Additional 12 oz CO2 Tank is the same CO2 tank supplied with the CO2 kit above. This tank is shipped empty and costs a few dollars to fill at a local paintball supply store. It holds enough CO2 for about 20 to 30 launches. Having two tanks increases launch capacity and reduces waste by not having to fill partially full tanks. They usually ship within a few days to two weeks, depending on stock.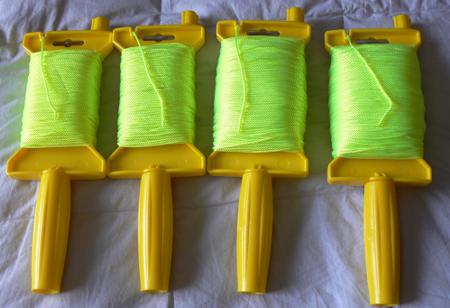 Twine Reels, 270 feet (left) or 500 feet (right)
Twine 270 Reel, loaded with 270 feet of nylon twine. These are excellent quality reels loaded with high-visibility nylon twine. This line is pulled up and over the tree with the fishing line. The twine is adequate to support most wire antennas and can be used to pull up heavier line when required. The convenient plastic reels hold the line and facilitate both feeding the line and winding it back up. 270 feet is enough to go up and over a 130 foot tree. Antenna trees that tall are not common, so this reel is adequate for almost all uses. The extra room makes this reel easy to wind up. The best setup is to have one reel for each end of a dipole in your kit. Twine reels ship in a few days to three weeks, depending on stock.
Twine 500 Reel, loaded with 500 feet of nylon twine. Same as above but longer — 500 feet — which is quite a long line. It allows for really tall trees, large spacing between the trees, and cutting some off the end now and then with no worries about running out. Twine reels ship in a few days to three weeks, depending on stock.
Hi-tech Spectra Line is excellent for the greatest launch height. This small diameter 50 pound test high visibility yellow line is the best choice for getting the tennis ball way up there. Virtually no stretch. Teflon impregnated to slide easily over branches. 150 yard spool.
SDR21 Tennis Ball Barrel material is just the right diameter for tennis balls. The walls are thinner than Schedule 40 so the Tennis Balls fit snugly whereas in Schedule 40 they are very tight. This is dark grey 200 psi rated PVC. It is also very smooth. I special order it in the proper diameter for Tennis Balls which fits the regular 2.5 inch PVC fittings. It is cemented with the regular PVC cement. This is available in several lengths. Actual length is within approximately 1/4″. NOTE: The SDR21 material varies depending on supply conditions. The current batch is white in color. Note that the CSV17 uses a 14″ barrel, and the CSV19 uses a 16″ barrel. SDR21 barrels are custom cut to the length of the barrel. SDR21 color is subject to change as material is procured.
Other Parts are available in our Online Catalog. Visit the Online Catalog for details and pricing.