The Pneumatic Antenna Deployment System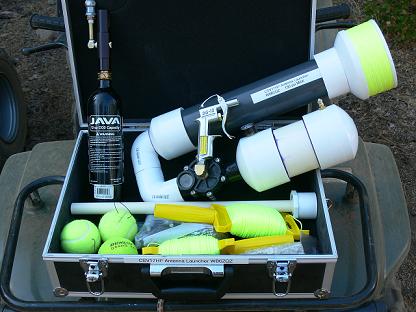 The Pneumatic Antenna Deployment System is a CSV17 Launcher in a Hard Case with a special Mini-Coaxial Reel. Photo includes some optional accessories.
CSV17 Pneumatic Antenna Launcher
The CSV17 is 17 inches long, weighs about five pounds and uses a 3″ pressure chamber that pumps up quickly with any tire pump and is optimized to work well with a single 12 gram CO2 cylinder per launch. It reaches up to about 130 feet in height and fits into an 18″ tool case.
The PADS Kit includes the CSV17 Basic Kit which is the parts for the Launcher.
Plus the PADS Kit also includes the Super Kit parts – Pressure safety relief valve, ramrod, launch ball loop kit, launch ball safety holder and the tap for the pressure chamber holes.
PLUS the PADS Kit also includes some Accessories such as the Mini Coaxial reel with launch line, two twine reels and a tool case.
Ordering PADS Kits
Add your antenna and a source of air pressure or CO2. The air chamber of the PADS Launcher is sized to get a good launch from a 12 gram CO2 cylinder. You can get a CO2 charger that uses 12 gram cylinders at the local bicycle shop. This compact pressure source fits into the hard case and insures that your launcher is always ready to go for Emergency Communications or Field Day. Assembly Required. See the PADS Pages for further info.
PADS Assembly Instructions
The assembly instructions for the PADS are the same as those for the CSV19. Only a few parts are slightly different. Prior to ordering a kit you should review the assembly instructions and required tools:
PADS Assembly Service
The PADS Assembly Service is provided for those who prefer that we assemble the launcher. This option is available on the various Super Kits. In this case we consume the Epoxy and we drill and tap the holes so we do not supply a tap. Three Pre-Prepared Launch Balls are included instead of the Launch Ball Loop Kit and Safety Holder. The other components of the PADS Super Kit are included with the shipment. Assembly adds about two weeks to the order preparation process.
PADS GOLD Set
We have put together a really deluxe Antenna Deployment System in a professional rugged Pelican case. The Pelican case is available in several colors.
Launcher Accessories
Separate accessores such as Prepared Tennis Balls, Ramrods and Zip Reels are available on the Launcher Parts and Accessories Page